Rodent Control
Our exclusive Rodex™ System will eliminate patterns of rodent re-entry. Our Seven-Step System is thorough and effective, and will ensure you the best protection against future rodent infestations.
Get A Free Inspection
Southern California Rodent Control
Rodent Control is a serious matter, we often forget just how many diseases and damage they cause in such a short amount of time. Not only do rodents chew through your home to get in your home, they chew things just to chew. They will bite through the wiring of your home. Many fires per year stem from rodents eating the insulation of the wires exposing them to the insulation of the wall void. They will create as many entry points as they can giving themselves access to other areas of your home.
Rodent trapping alone cannot control a rodent infestation. 22 years doing rat exterminating has allowed Kilter to create a system. We not only trap the rats but seal all the holes in the building that they have created. Rats and mice are both capable of entering holes as small as 1/4 of an inch. Our system does not initially involve any rodenticide in fear that your children or pets will come in contact with the material. We care about your family and pets. We want your home to be rodent, whether mice or rats, free.
You deserve the best! Call (866) 827-1727.
Typically pest control companies have focused on trapping the existing infestation and then sealing the current access points for rodents. This type of treatment normally carries a warranty of up to 90 days, and rodents will often return within one year. The strong pheromone rodents leave behind in their urine will act like a magnet, eventually drawing the rodents back and create yet another infestation.
Kilter's Exclusive Rodex System can eliminate this re-entry pattern. Our Seven-Step System is thorough and effective, and will ensure you the best protection against future rodent infestations. Kilter professionals will go over the Rodex System with you, make recommendations based upon their thorough inspection, and answer any questions you may have.
Step 1: Complete Inspection
Kilter professionals will complete a thorough inspection of the property to locate entry points and infestation areas. The diagram on the previous page shows just some of the many entry points our licensed inspectors focus on to locate points of access for rodents.
Step 2: Clean Room Entry
Prior to performing work, Kilter professionals will apply foot covers and create a "clean room entry point" to the attic.
Step 3: Sanitize
Kilter professionals will sanitize all previously infested areas and attic spaces to prepare the insulation to be removed. Rodent droppings can flake and become airborne, potentially circulating contaminated air through your central heating and air conditioning systems.
Step 4: Insulation Removal
For blown insulation, Kilter professionals will use a high horsepower insulation removal tool to keep the dangers of inhalation of toxins from putting your family and our construction crews at risk.
Step 5: Exclusion from Re-Entry
Kilter professionals will call on their 30+ years of industry education and experience in the construction industry to make your home a rodent free zone. The expertise of our technicians will allow them to see possible re-entry areas that ordinary pest control agencies may not see. All materials used in sealing off possible entry points are construction grade and specifically chosen to return your home to its original pre infestation conditions.
Step 6: Rodent Trapping
Rodents are occasionally trapped within the structure once all the entry points have been sealed off. Kilter professionals will leave traps behind and check them routinely until all rodents have been eliminated. Typically the rodents have become frightened during our construction process and one or two have been left behind needing removal. These remaining rodents, having been separated from the pack, are usually easily caught within a few days but our technicians will monitor your home to ensure that no rodents have been left behind.
Step 7: Reconstruction
A final sanitation is performed prior to reconstruction. This sanitation process removes any odors associated with infestation that rodents use to find safety or a breeding mate.
As a Licensed Insulation contractor, Kilter technicians know how to correctly prepare an attic for re-insulation. It is necessary to. Baffle the vents to preserve airflow and can lighting to prevent fires. When the preparation work is completed, we will sanitize the attic and install Thermal Acoustical Pest Control Insulation. The advantages of TAP. are:
TAP. Pest Control Insulation keeps homes cooler in the summer and warmer in winter
TAP contains a fire retardant
TAP's specially formulated borates controls pest
TAP Pest Control Insulation can only be installed by licensed pest management professionals. If you are told that a product can affect insects, ask to see the EPA label!
Install TAP Pest Control Insulation in your home and earn a tax credit of up to $500! Please call for credit availability. Protect your home and save!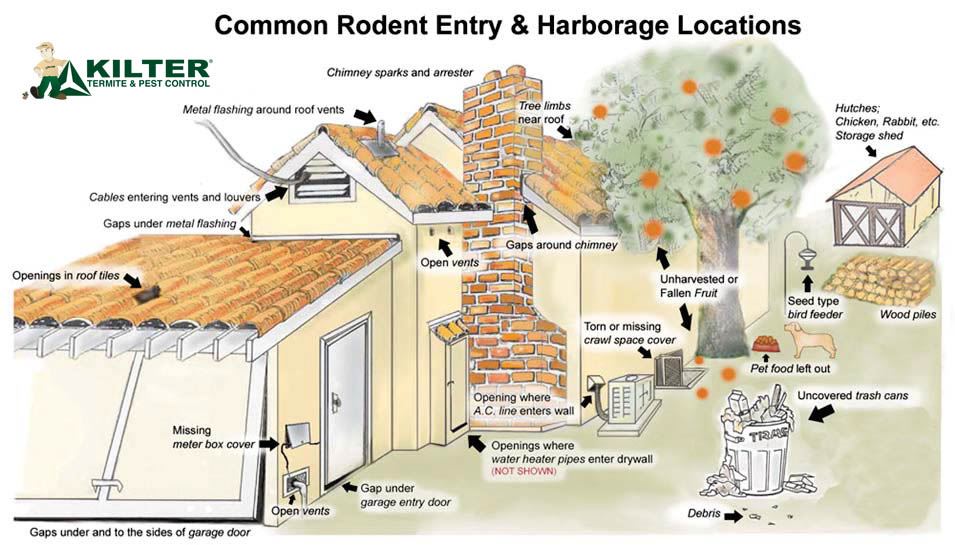 How Rodents Invade Your Home
They use these holes to enter and exit your home, like it was their home. Rats and mice can climb brick, other rough surfaces, inside and outside pipes and walk on wires. Rodents can drop 50 feet without being seriously injured. They are able jump vertically 36 inches and 48 inches horizontally. Norway rats can burrow vertically into the earth to a depth of 4 feet. Most people do not realize that rodents can swim a mile in open water. They can enter plumbing traps, swim in sewer lines, and swim against substantial currents. Mice are not as good with water as rats but can manage. The teeth of the rat makes the homeowner and exterminator cringe. They grow 4 to 5 inches a year and can prevent their eating if they do not gnaw them down. They are constantly chewing to get their teeth to the "proper length" (each rodent probably has their favorite length of teeth , like we have preferable hairstyles HA.) Interesting enough they are able to chew through lead sheeting, aluminum, adobe brick and even concrete! Diseases are transferred and transmitted several different ways some as gross as the rodent "biting" you or your loved ones, others as simple as the rodents fleas ticks or mites that used to live on the rats. They contaminate the food and water of your home with their feces and urine. One of the most dangerous situations for rat exterminators is the insulation of attics that has severe urination as the Hantavirus is contracted this way.
Exterminators everywhere when they open the attic door cringe inside when the smell hits them. No matter how many times you smell it, its still as terrible as the first time. This foul dangerous odor gets into the air conditioning and creeps through the vents pouring this harmful smell into areas of your home.
Rats and mice are both capable of entering holes as small as 1/4 of an inch. Our system does not initially involve any rodenticide in fear that your children or pets will come in contact with the material. We care about your family and pets. We want your home to be rodent free, whether that be mice or rats. Contact us today!
"We've had an annual contract for over 25 years. I'll always trust my home to Kilter."

- Beth Bermudez
Trusted Services Across SoCal
Whats Bugging You?
Frequently Asked Questions
The pest control technician told me that for my own safety, I should leave the house during the treatment. Is that necessary?

A:

To ensure that the treatment is being done properly, the homeowner should observe the treatment process. Unless the homeowner is chemically sensitive, there should not be any adverse health problems associated with a treatment done correctly. Ask questions of the pest control technicians. Keep track of how long it takes them to do the job.

My next-door neighbor has termites and is going to have his house treated. I've been told that the termites will attack mine.

A:

Termites move randomly through the soil searching for a source of food (wood). They do not have the ability to know exactly where your house is. So, if your next-door neighbor treats his home for termites, your house isn't automatically the termites' next lunch. No, your house does not need to be treated; but, if there are active termite infestations in your neighborhood, it is a good idea to have it inspected.

How do I know if I am getting a good inspection?

A:

The best thing you can do is to be involved and observant in the inspection process. For example if you request an inspection and the inspector doesn't inspect obvious areas such as your garage, attic, basement, etc., then you may need to consult an additional company. Don't be afraid to ask questions.

How long do we have to be out of the house?

A:

Fumigation process normally takes 3 days and 2 nights unless there is a holiday or weekends or if special arrangements are made. Kilter's Stay in Your Home termite treatment requires no leaving your home at all.
Why Should You Trust Kilter?
Here's What We Offer:
Stay In Your Home Termite Treatments

Warranties That Are Second to None

24/7 Service

Free Home & Termite Inspection

Education & Expertise

We Guide Homeowners to Make the Best Decision
Serving A Wide Area
Serving Orange County, Los Angeles County & San Diego County
Request a Free Inspection
Contact us below or call
(866) 827-1727

.